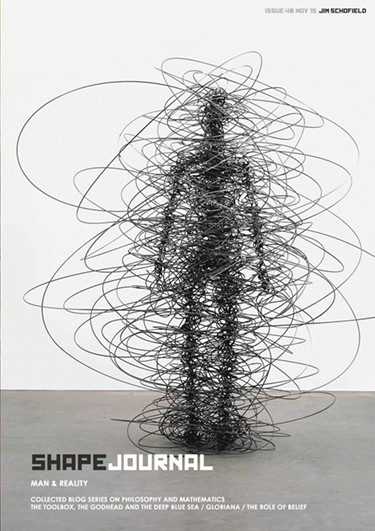 The Team
Jim Schofield -

Editor





Physicist, Philosopher, Marxist, Multimedia Expert, Mathematician, Author, Sculptor.



Dr. Peter Mothersole -

Editor





Senior Lecturer in Computing, Physicist, Photographer, Constructivist, Software Developer, Philosopher.



Mick Schofield - Art Director

Graphic Designer, Writer, Photographer, Music Producer,
Digital Artist, Webmaster

SHAPE Issue 40

Man & Reality

4. Introduction: a series for the blog
7. Part I
9. Part II
13. Part III
17. Part IV
21. Part V
24. Part VI


Read PDF (Right click link to Download)


Editorial

Welcome to the 40th Issue of SHAPE Journal.

This edition features a piece of writing called Man & Reality which was originally completed 10 years ago.

It has now been serialised on the blog as a good introduction to my philosophical poisition on Mathematics, and is published here in full for the first time.