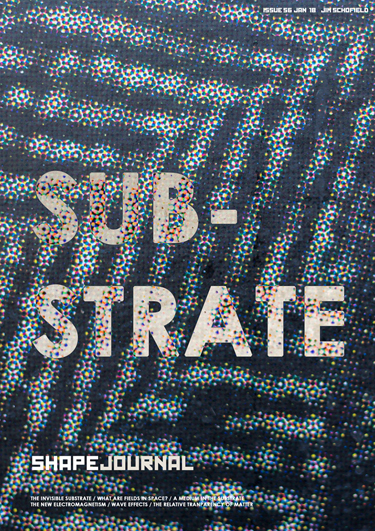 The Team
Jim Schofield -

Author / Editor





Physicist, Philosopher, Marxist, Multimedia Expert, Mathematician, Author, Sculptor.



Dr. Peter Mothersole -

Advisor / Editor





Senior Lecturer in Computing, Physicist, Photographer, Constructivist, Software Developer, Philosopher.



Mick Schofield - Art Director / Editor



Writer, Researcher, Photographer, Artist, Designer

Issue 56
Substrate


The Invisible Medium

What is a Field?

Fields in Space

The New Electromagnetism

A Medium in the Substrate

Resonance and Substrate

The Relative Transparency of Matter

Wave Effects

Mutually Coexisting Substrate Units


Read PDF (Right click link to Download)


Editorial
Welcome to the 56th issue of the SHAPE Journal on Jim Schofield's Subtrate Theory.

For some time now this theorist has postulated that some hidden medium must permeate all space - but this is no aether theory reboot. In this collection of papers Schofield develops these ideas further, demonstrating that many of the mysteries and anomalies in the quantum world can be explained simpy using physics, dialectics and the sub atomic particles we have been aware of since the 1930s.

This issue places a particular focus on fields in space: magnetic, electrical and even gravitational - and how a Universal Substrate might finally offer a material explanation for action-at-a-distance.