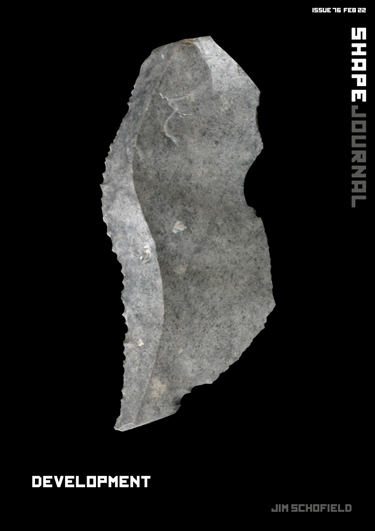 The Team
Jim Schofield -

Author / Editor





Physicist, Philosopher, Marxist, Multimedia Expert, Mathematician, Author, Sculptor.



Dr. Peter Mothersole -

Advisor / Editor





Senior Lecturer in Computing, Physicist, Photographer, Constructivist, Software Developer, Philosopher.



Dr. Mick Schofield - Art Director / Editor



Writer, Researcher, Photographer, Artist, Designer

Issue 76
Development



The Emergence of the Wholly New
And the Necessary Means of Maintaining
the Best of It! I-III

Development and Evolution:
How Life Changed Tempos Radically

The Profound Effects of the Systems Level
upon Natural Causality and Humankind

Variability, Change and Development:
The Purposes of Stability and the Difficult Necessity of Development


Read PDF (Right click link to Download)


Editorial
Welcome to Issue 76 of the SHAPE Journal.

This edition looks at evolutionary development, but certainly not in the usual and expected ways. Jim Schofield's new Systems Approach to Science reconfigures how we think about how both natural and social systems change over time.

From the revolutionary tool use of Early Man, to the problems of solving Climate Change today, from the mysteriries of Sub-atomic Physics to the unknown Origin of Life on Earth, this discusive series of essays plots a path through the many flaws in current Human Understanding, to reveal the vital need to appreciate systems holistically for the first time.

Revolution and Emergence are just as important to understanding Life's development, as genetics and incremental Evolution. How do such vast systems become stable in the first place, what finally makes them collapse, and how does that process lead to the Wholly New?