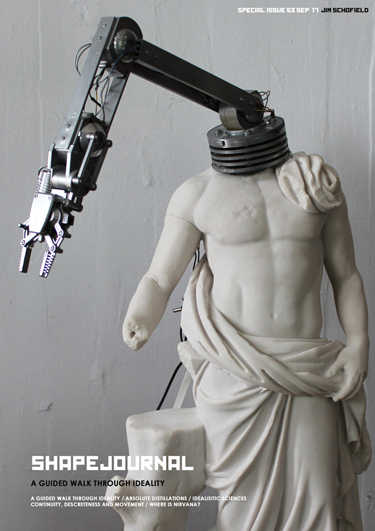 The Team
Jim Schofield -

Author / Editor





Physicist, Philosopher, Marxist, Multimedia Expert, Mathematician, Author, Sculptor.



Dr. Peter Mothersole -

Advisor / Editor





Senior Lecturer in Computing, Physicist, Photographer, Constructivist, Software Developer, Philosopher.



Mick Schofield - Art Director / Editor



Writer, Researcher, Photographer, Artist, Designer

Special Issue 53
A Guided Walk Through Ideality


Preface

A Guided Walk Through Ideality

Absolute Distillations
Is there a path to perfect truth?

Idealisitic Sciences
...or the handmaidens of mathematics

Continuity, Descreteness and Movement

Where is Nirvana?


Read PDF (Right click link to Download)


Editorial
Welcome to the 53rd Special Issue of the SHAPE Journal.

This edition arose from a response by long time colleague and good friend of mine, Peter Mothersole, to a paper about mathematics I sent to him a short time ago. His questions, as always, were particularly apt, and needed a better response than the dispersed papers of the past. So, several new papers were written, and bundled together with a small collection of older, yet appropriate ones from the past, to deal with the issue of Ideality in this discipline, and the sciences which rely on it.

So, this Issue is dedicated to Dr. Peter Mothersole, and shared here with any other interested parties.

Enjoy!